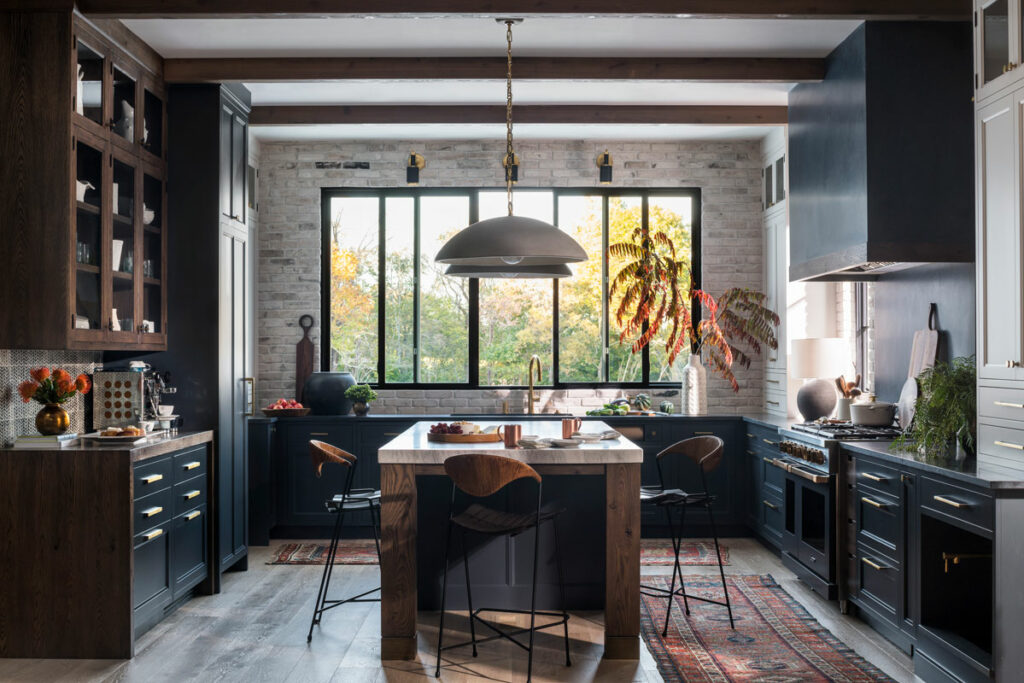 The 2023 Best Overall Kitchen winner talks about expanding beyond her East Coast base, the "nostalgia" trend and more.
As the submissions season for the 2024 NKBA Design Awards comes to a close — with the deadline extended to July 23 — we revisit a conversation we had with one of the previous winners, Sarah Robertson, AKBD, Founder and Principal of NY-based Studio Dearborn.
Robertson clinched both the Best Small Kitchen and Best Overall Kitchen prizes at NKBA's Kitchen & Bath Design + Industry Awards at KBIS 2023 in Las Vegas, for her "Creek Lane" kitchen design — which the judges called "a case study in how to mix materials." Sarah took on a long-distance new build on the outskirts of Nashville for clients who wanted a kitchen with lots of natural light and special amenities for their five pets. Pale oak floors, rich blue-black cabinetry, soapstone countertops, and light-hued reclaimed brick from the clients' hometown in Wisconsin effortlessly mixed both modern and farmhouse aesthetics.
However, the celebration didn't end there for Robertson. Since founding the boutique design firm in 2008, the MBA-educated former McKinsey management consultant has earned AKBD certification. Her designs have been featured in House Beautiful, Traditional Home and HGTV Magazine, to name only a few — helping her to develop a global social media following.
Sarah took time post-KBIS to talk to us about her approach to design and her outlook for home improvement.
NKBA: What are you most excited about in regard to your upcoming projects and/or products for 2023 and beyond? Are you looking to expand into other areas of the industry or your business?
Sarah Robertson: I'm excited to be expanding geographically. It's really fun to work on projects beyond the East Coast into areas where tastes and styles are a little different from here. I'm also thrilled that my Steppe Sink will be launching this year with Nantucket Sinks. We used it in our winning kitchen, but we will now have access to national distribution and the quality of fabrication that Nantucket is known for.
NKBA: What trends are you seeing emerge in the Kitchen + Bath spaces and the home as a whole? What are you loving?
SR: I'm really excited to see that nostalgia is coming back as a "trend," although it's really an "anti-trend!" Comfort, familiarity and coziness have been creeping their way back into our spaces for several years now and I couldn't be more excited. I'm looking forward to using more old-world-inspired materials, millwork styles, hardware and lighting.
NKBA: Is your business being impacted by the economy? Any tips for how to navigate the current uncertainty in the market?
SR: So far I'm not seeing any change in demand for my services. We've made drastic changes in the last three years in how we live and how we use our homes. Our homes have become our sanctuaries, our workplaces, our gyms and the hub of our family life. Social media has also brought increased visibility for interior design, and it's a topic of conversation like never before. I expect that we will see an extended uptick in spending on home improvement due to these lifestyle changes and this refocus of priorities.
NKBA: What constitutes good design to you personally and what design strategies have you found to be the most effective?
SR: Good design needs to function well, inspire us and help get us through our day. I love asking clients to imagine themselves walking through their new space, interacting with it and using it. I then listen to their own feedback on what feels good and what isn't working. I think 3D walk-throughs are good, too, but sometimes it's more informative to use one's imagination to avoid the distractions of a visual presentation.
NKBA: What has been your biggest design challenge and how did you overcome it?
SR: I think almost every day brings a new "biggest design challenge." I overcome challenges by remaining calm, reminding myself of my priorities and then getting to work on what needs to be done.
Want To Win Big, Too?
Do you want the chance to win cash prizes, gain national exposure and make more connections at KBIS 2024 in Las Vegas? Enter our Kitchen & Bath Design + Industry Awards today. Due to an overwhelming response, we have extended the deadline for NKBA's Design Awards to July 23. Don't miss the opportunity to become tomorrow's K&B star, by entering this enhanced competition that includes cash prizes totaling $100,000, streamlined categories and more. Enter today!